Cors Bodeilio National Nature Reserve
This large rich fen system, located between Pentraeth and Talwrn in eastern Anglesey, is one of a suite of wetlands internationally famed for their unusual and diverse vegetation. (see also Cors Goch NNR and Cors Erddreiniog NNR)
The chief feature of the site is the large area of fen - characterised by rustling stands of common reed, great fen sedge, blunt flowered rush and black bog rush. Amidst this initially uninspiring sounding collection of plants is a profusion of orchids, insectivorous plants, rare giant algae or stoneworts, dazzling dragonflies, grasshopper warblers, bloodsucking medicinal leeches ..... and whatever else you can find when you look closely. There are small areas of limestone grassland on the central "island" and wet meadow with devil's bit scabious.
There is a public right of way across the fen, (and open public access on the adjacent common land to the southwest of the NNR) but CCW is improving access to enable people of all abilities to experience this superb open area . A boardwalk is being constructed to enable people to enter the dense fen areas, though in parts it is floating over deep soft peat so Wellington boots may be advisable at times!
The land is grazed with Welsh Mountain ponies to maintain the natural vegetation and there are deep ditches, so care is needed.
See also Cors Bodeilio SSSI
See also Corsyd Mon & Llyn LIFE Fens Project
See also First-Nature Cors Bodeilio NNR guide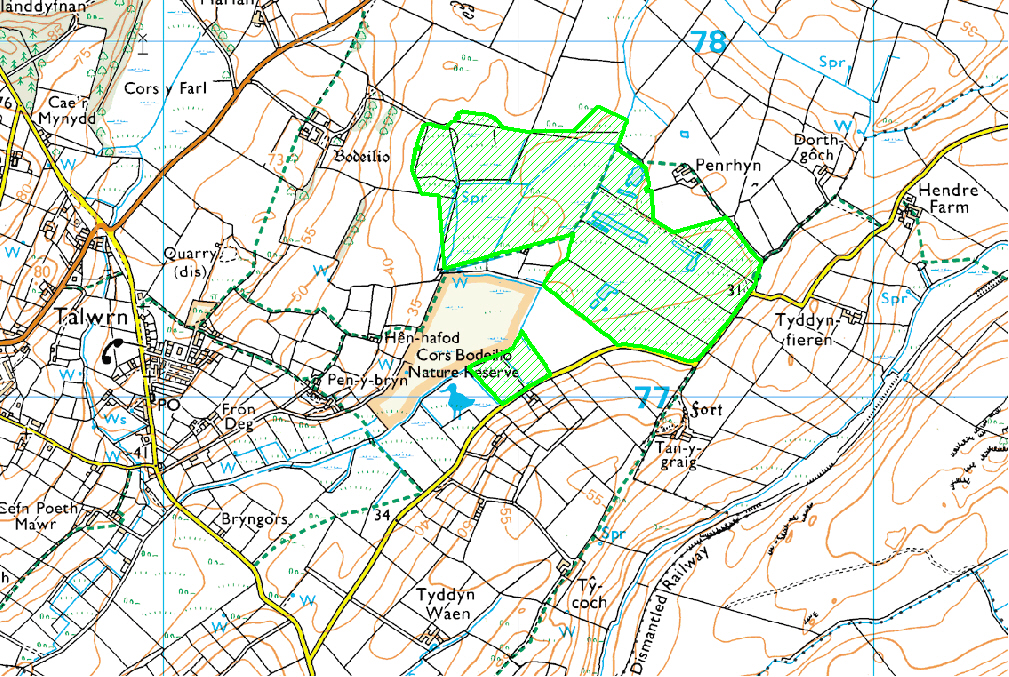 Map reproduced by permission of Ordnance Survey ® on behalf of the Controller of Her Majesty's Stationery Office. © Crown copyright. All rights reserved. License number 100044910.