HEN BORTH SITE OF SPECIAL SCIENTIFIC INTEREST
CCW MANAGEMENT STATEMENT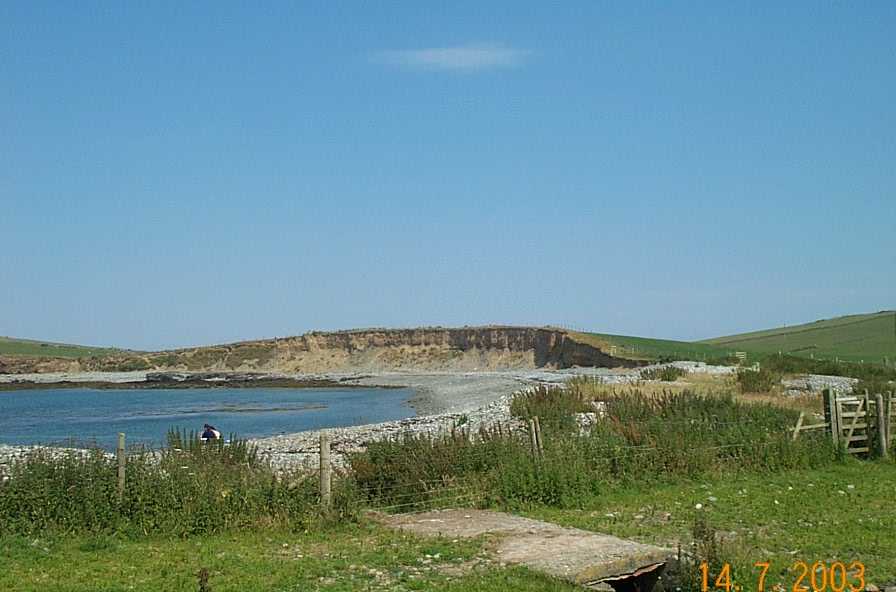 What is 'special' about the geology at Hen Borth SSSI?
Hen Borth SSSI has one special feature:
Pleistocene/Quaternary sediments exposed in coastal cliffs together with drumlin landform.
Hen Borth SSSI is of national importance because it contains a coastal cliff-section, which reveals the internal structure and sedimentary detail of a glacial mound (drumlin), together with the inland part of the mound which demonstrates the shape and form of the drumlin landform. The drumlin was formed during the last Ice Age, approximately 20,000 years ago. This soft cliff also provides nesting areas for a colony of sand martins and these too are a key components of the special interest of the site. Unless specified below, management of this site should aim to look after these habitats as well as the listed features of interest.
What do we want Hen Borth SSSI to look like?
The special feature will be visible and accessible in order to allow further study and research. This will be achieved by maintaining the natural shape of the landform and ensuring that the exposures in the coastal cliffs will continue to provide a section through the drumlin. These features should remain visible and accessible and allow further study into the origin of drumlins.
| | |
| --- | --- |
| | Excellent exposures such as these at the top of the beach reveal the internal structure of the drumlin. |
What management is needed on Hen Borth SSSI and why?
Hen Borth is an excellent place for geology and research, and sites such as this are vital for further geological research. However it will only remain so if the necessary management continues and CCW's aim is to work with you to ensure that this management is carried out.
What does this mean in practice?
There are a number of different factors that could damage the special feature at Hen Borth SSSI if they are not properly managed. These are the ones we regard as most important:
Maintenance of this glacial landform in an optimal condition will depend on low impact management. Current agricultural practices, namely livestock grazing and arable cultivation should be maintained.
Natural coastal processes involving gradual erosion of the slope keep the coastal cliffs relatively clean, free of vegetation, visible and accessible for study. Any human interference with the natural coastal processes, for example the construction of groynes or rock armouring, could result in the accumulation of debris at the foot of the cliffs or establishment of thick vegetation and concealment of critical exposures.
Finally
It is possible that new issues may arise in the future, whilst other issues may disappear. This statement is written with the best information we have now, but may have to change in the future as our understanding improves. Any information you can provide on the special feature of your site and its conservation would be much appreciated.
If you would like to discuss any aspect of your SSSI, or have any concerns about your SSSI, please contact your local CCW office.
Your local office is;
Cyngor Cefn Gwlad Cymru/Countryside Council for Wales
Llys y Bont,
Ffordd y Parc,
Parc Menai,
Bangor,
Gwynedd, LL57 4BN,
Telephone: 01248 672500
Fax: 01248 679259