LLYN MAELOG
SITE OF SPECIAL SCIENTIFIC INTEREST
MANAGEMENT STATEMENT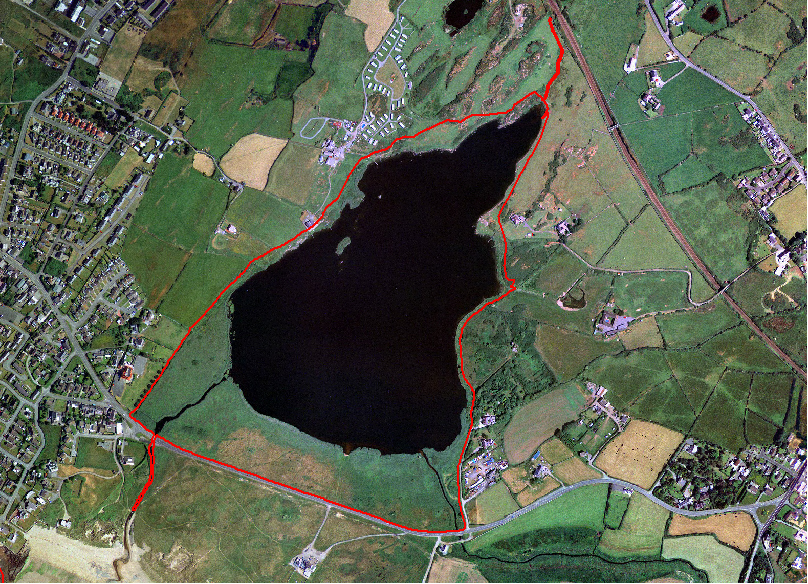 ©Getmapping plc,2006
What is 'special' about Llyn Maelog SSSI?
Llyn Maelog has 2 special features.
A nutrient-rich lake

A large area of reed swamp, mostly around the southern lake-shore.
As well as the features listed above, Llyn Maelog has other habitats and earth science features that contribute to the special interest. These include dune grassland, which occurs along the roadside near to the lake, ditches, and scrub. There are outcropping volcanic rocks, Ordovician sandstones and conglomerates at the northern end of the lake, some forming islands. This mixture of habitats is important for much of the wildlife including a suite of aquatic plants characteristic of a nutrient-rich lake with species such as autumnal water-starwort, spiked water-milfoil, horned pondweed and rigid hornwort. Eight species of pondweed have been recorded including perfoliate pondweed, blunt-leaved pondweed, and lesser pondweed. The shallow water margins, the main zone of plant growth, support slender spike-rush and shoreweed. The Reed swamp consists largely of common reed but also includes yellow loosestrife and the locally uncommon greater spearwort. Lesser water-plantain and flowering-rush are other uncommon plants which occur within the lake margins.
Llyn Maelog is of local interest for its wintering wildfowl, particularly coot and pochard, and for its breeding bird community. Waders including oystercatcher and golden plover overwinter on the peripheral grassland. The site supports a range of breeding waterfowl and other birds including black-headed gulls which nest on small islands within the lake, and reed warbler within the reed beds. Bittern has bred here in the past. Freshwater swan mussels are recorded from the lake.
Unless specified below, management of this site should aim to look after these habitats and species as well as the listed features of interest.
What do we want Llyn Maelog to look like?
Llyn Maelog should continue to be a nutrient-rich open water lake with about 4.5ha of common-reed swamp. It should support autumnal water-starwort and slender spike-rush along with other typical water plants. The lake and its associated reed swamp should support wintering wildfowl, particularly pochard, and its breeding bird community. Peripheral grassland should provide overwintering birds including oystercatcher and golden plover with feeding and roosting areas. Black-headed gulls should nest on islands within the lake. The reed-swamp should provide habitat for bittern and reed warbler. Swan mussels should be present in the lake.

What management is needed on Llyn Maelog SSSI and why?

Although Llyn Maelog is an excellent place for wildlife it will only remain so if the necessary management continues. CCW's aim is to work with you to ensure that this management is carried out.

What does this mean in practice?

There are many factors that could damage the special features at Llyn Maelog if they are not properly managed. These are the ones we regard as most important:

Water quality: Although a naturally nutrient-rich lake, any increase in nutrients (such as phosphates and nitrates) beyond current levels is likely to have an adverse effect on its wildlife. It may promote growth of a narrower range of plant species at the expense of the desired species. It also promotes algal "blooms" which smother natural plant populations, de-oxygenate the water and in extreme cases lead to loss of fish or other animal species. No fertiliser of any kind should be applied within 10metres of the lakeshore. Silage and farmyard manure should not be stored within 20m of the lakeshore or of any inflowing stream. Catchment management should seek to ensure no increase in nutrient runoff. Care must also be taken in applying herbicides and pesticides in the vicinity of the lake.

Water level: The lake is controlled by a sluice at the northern end as well as the southern outfall to the beach. Care should be taken to ensure that maintenance of both these outfalls retains the water level of the lake. Periodic de-weeding and de-silting of the beach outfall is permitted, but it should not attempt to lower the bed level of the stream.

Angling and Fishery Management: Fish can affect the ecology of a lake by eating plants (altering the plant cover or composition) zooplankton, invertebrates or other fish or by stirring up nutrients in sediments. This lake contains migratory sea trout and sedentary brown trout. Pike were illegally introduced in the early 1990s and are now naturalised and well established. Roach are naturalised and perch are known to have been present since the 1930s. Bream were introduced during the 1970s: they may re-suspend bottom sediments while feeding. No fish of any kind, particularly carp or other voracious feeders or bottom feeders (such as tench) should be introduced without an assessment of the potential impact on the lake. Bank angling and the use of boats or float tubes should be limited to areas away from the reedbed or tall emergent vegetation. The use of groundbait or livebait should be discouraged to reduce water pollution and risk of introducing further alien species of fish. Any change in fishery management, including cutting of vegetation or construction of fishing platforms, should be discussed with CCW.

Sailing & boating: Low levels of boat use are unlikely to have adverse effects providing that care is taken to avoid disturbance to breeding and wintering birds and plants growing on the lake bed. If boats with engines are used they should be well maintained to minimise risk of oil/fuel leaks caused by mechanical failure and to limit noise levels as far as possible. Speed should be limited to 5mph to prevent damage to lake-shore, islands and vegetation by "wash". It may also be necessary to limit numbers and frequency of boat users on the lake.

All boat users should avoid the islands during the breeding season (March to August). Flapping sails can be particularly disturbing to breeding and wintering birds.No boats of any kind should be used during exceptionally cold weather when birds are particularly vulnerable to disturbance.

Reedbed management: Monitoring of the reedbed over many years has shown little or no change in its area, though the "emergence" of the reeds each summer can be deceptive. No management is envisaged at present, though the proportion of willow scrub needs to be reviewed at intervals.

Finally

Our knowledge and understanding of wildlife is continually improving. It is possible that new issues may arise in the future, whilst other issues may disappear. This statement is written with the best information we have now, but may have to change in the future as our understanding improves, in particular, of the possible/probable impact of climate change. Any information you can provide on the wildlife of your site, its management and its conservation would be much appreciated.





If you would like to discuss any aspect of your SSSI, wish to change your management of the SSSI or have any concerns about your SSSI, please contact your local CCW office.

Your local office is:

Countryside Council for Wales

Llys y Bont

Ffordd y Parc

Parc Menai

Bangor

Gwynedd, LL57 4BN



Telephone: 01248 672500
Fax: 01248 679259