TRWYN DWLBAN SITE OF SPECIAL SCIENTIFIC INTEREST
SITE MANAGEMENT STATEMENT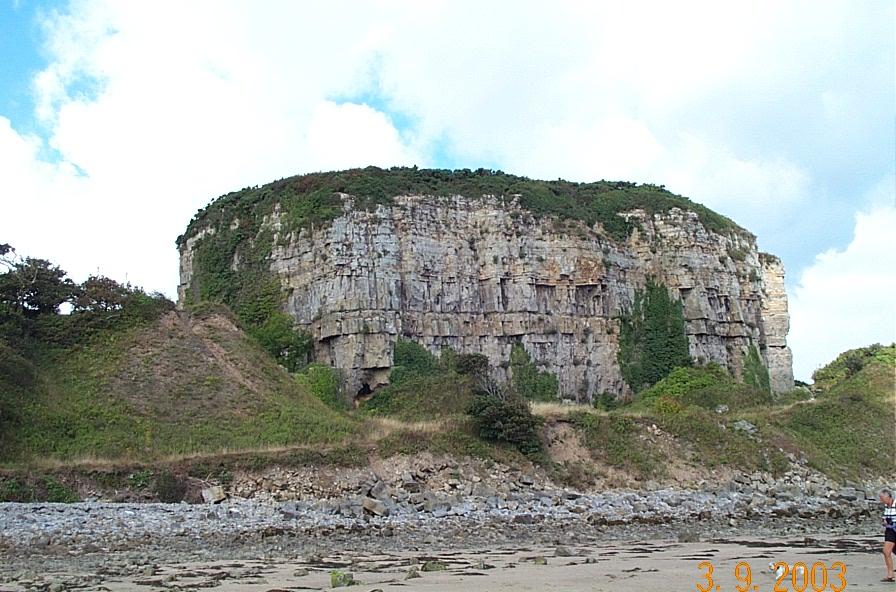 What is 'special' about Trwyn Dwlban SSSI?
Trwyn Dwlban has two special features:
What do we want Trwyn Dwlban to look like?
The rock exposures should continue to exhibit examples of sedimentary structures, sandstone pipes, palaeokarstic features and sections through the Lower Carboniferous sequence. Quaternary sediments should continue to provide evidence for a sequence of environmental changes, from temperate interglacial conditions, to colder and then fully glacial conditions. In addition, the foreshore exposures should provide examples of glaciated striated bedrock. These features should remain visible and accessible and allow further study into the Carboniferous and Quaternary geology of Anglesey.
| | |
| --- | --- |
| | Scratches or striations on the bedrock formed by moving ice during the last Ice Age. |
What management is needed on Trwyn Dwlban SSSI and why?
Although Trwyn Dwlban is an excellent place for geological study and research it will only remain so if the necessary management continues. CCW's priority is to work with you to ensure that this management is carried out.
What does this mean in practice?
There are many factors that could damage the special features at Trwyn Dwlban if they are not properly managed. These are the ones we regard as most important:
Current land-use practices on and surrounding this site must not affect the geological interest of the site. Care must be taken that any changes in land-use, for example, sea defence, drainage or extraction of rock, do not affect the geological interest of the site.
Any activities on the foreshore must not damage the examples of glacial striations and palaeokarstic features.
Activities that obscure the rock faces and soft sediment exposures, such as engineering work or dumping of earth, spoil or waste material, must be avoided.
The rock and soft sediment exposures should remain accessible allowing further study and research into the geology of Anglesey. Although there is public access to the beach, permission to study parts of the site is entirely at the discretion of the landowners.
Finally
Our knowledge of geology is continually improving. It is possible that new features of value may appear and new management issues may arise in the future, whilst other issues may disappear. This statement is written with the best information we have now, but may have to change in the future as our understanding improves. Any information you can provide on the wildlife of your site, its management and its conservation would be much appreciated.
If you would like to discuss any aspect of your SSSI, or have any concerns about your SSSI, please contact your local CCW office.
Your local office is;
Cyngor Cefn Gwlad Cymru/Countryside Council for Wales
Llys y Bont,
Ffordd y Parc,
Parc Menai,
Bangor,
Gwynedd, LL57 4BN,
Telephone: 01248 672500
Fax: 01248 679259