NEWBOROUGH WARREN - YNYS LLANDDWYN SSSI (SAC)
This site encompasses one of the finest dune systems in the country, along with the two adjacent estuaries. The dunes, though partly afforested with conifers, are internationally recognised (with Tywyn Aberffraw to the north and with Morfa Dinlle on the opposite shore of the Menai Strait) as part of a Special Area of Conservation SAC and the saltmarsh and mudflats of the Afon Cefni and Afon Braint estuaries are similarly designated SAC.
There are various access points, including the popular drive to the beach car park from Newborough Village (small charge for vehicles at the forest gate) or from car parks at the southern end of Malltraeth cob (embankment) or at Llyn Rhos-du and Penlon. Most of the non-afforested area including the beach an Ynys Llanddwyn is a National Nature Reserve. Newborough Warren – Ynys Llanddwyn NNR was first established in 1953 and now covers virtually all the open dunes and the foreshore from the Afon Cefni to the Afon Braint, including Ynys Llanddwyn itself. Some parts of the dunes are owned by CCW but most of this land is held under lease from the Crown Estate, Isle of Anglesey County Council, the Forestry Commission and several private landowners. Access on foot in the forest and on the beach is open to all. There are footpaths accross the open dunes which give a good cross-section of the dune zonation.
Potentially Damaging Operations list
Dunes Special Area of Conservation
Saltmarsh Special Area of Conservation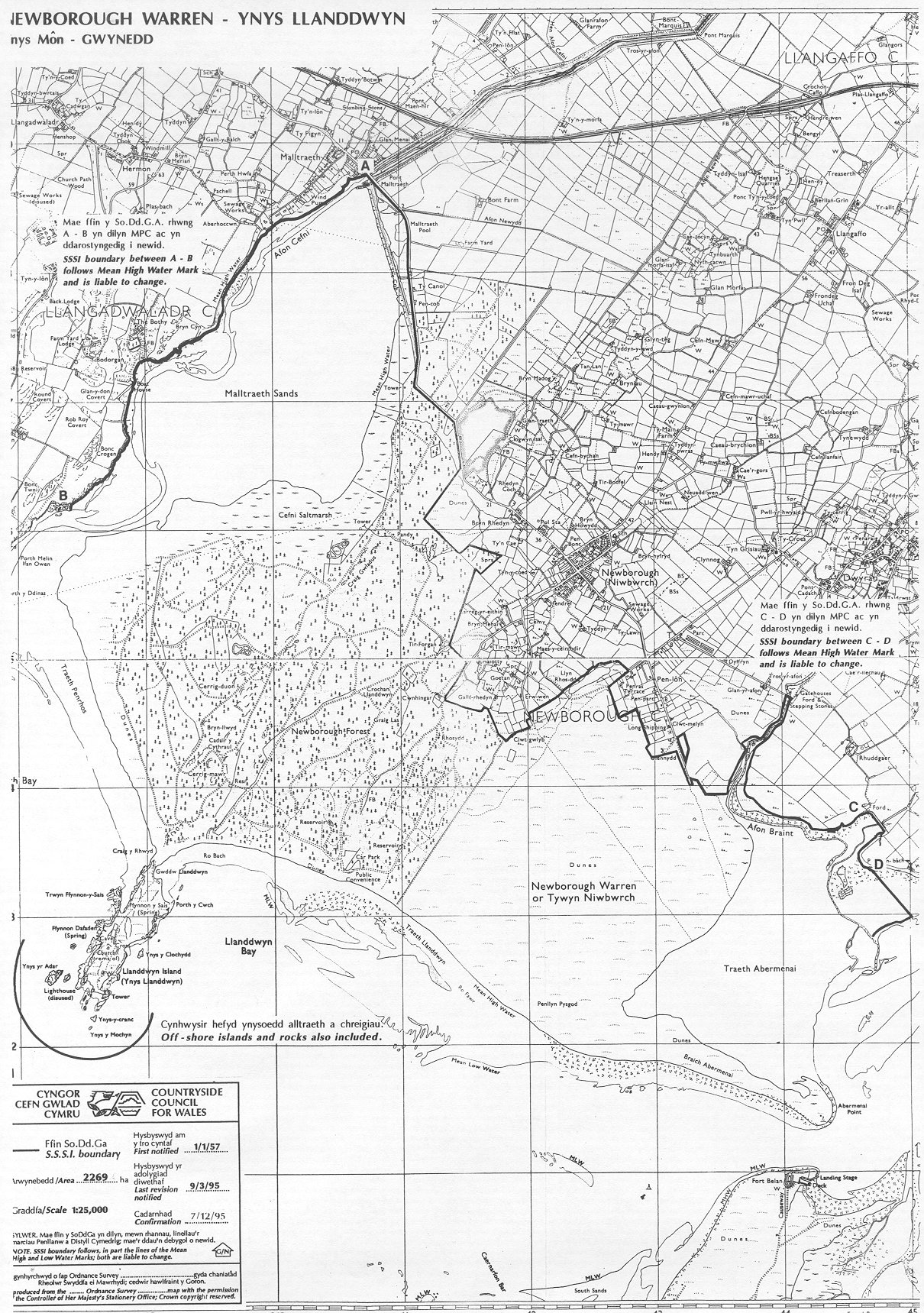 Map reproduced by permission of Ordnance Survey ® on behalf of the Controller of Her Majesty's Stationery Office. © Crown copyright. All rights reserved. License number 100044910.